BATH CAPE EMBROIDERY WITH NAME
Too cute, here you design a bath cape that will be embroidered with name or initials! A bath cape is always handy to use with a baby and that makes this bath cape the perfect maternity gift. Of course, it's also super fun to design this bath towel with name for your own baby.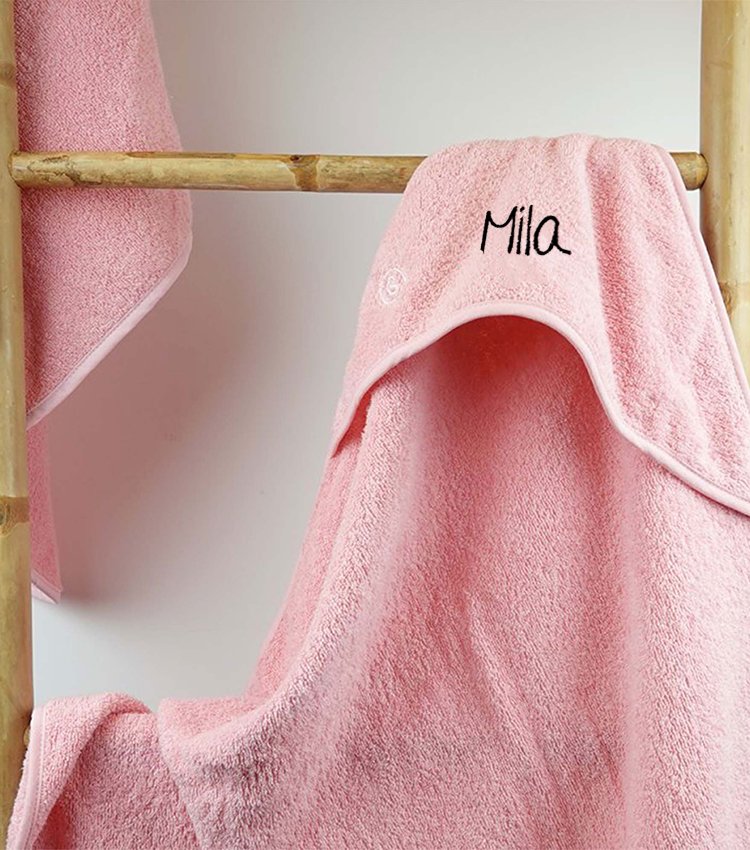 A bath cape is a product that always comes in handy when you have a baby. It ensures that the head stays nice and warm after bathing. We embroider the hat of the bath cape with a name. And you decide the name that comes on it yourself. That makes it extra personal because you can have your child's name embroidered on it!
BATH CAPE WITH NAME
To personalize the bath cape, first select a font above. You then determine the color of the embroidery thread and finally you enter the name or another text that may be embroidered on the hooded towel. An example of another text that is also nice is the date of birth of your child or the initials of the first and last name.
BABY BATH CAPE AS A MATERNITY
Of course, the bath cape is not only fun if you have a baby yourself. Is someone close to you pregnant and are you looking for a nice present for when the little one is born? Then you are definitely in the right place with this bath cape. Because you have the name of the child embroidered on it, you have a super personal gift. The hooded towel is available in two different colours, namely light pink and white. Great for boys and girls!
If you want to make a nice maternity package to give as a gift, you can always choose to personalize a romper and to have a popular Happy Horse Richie cuddle cloth embroidered. These items together make a nice package! You can add a gift box to your order during checkout. When you do this, we pack all items in this box, making it even more of a complete package. You can also add a free card to your order. You write the text for the card yourself!
Product features
Size: 75 x 75 cm
Material: 100% cotton
Name is embroidered