WAITER'S KNIFE WITH NAME
For your father, grandfather or best friend it is sometimes difficult to come up with a nice gift. Is he a real wine or beer lover? Then this sturdy waiter's knife might be the right gift! It is engraved with a name or short text in the bamboo handle.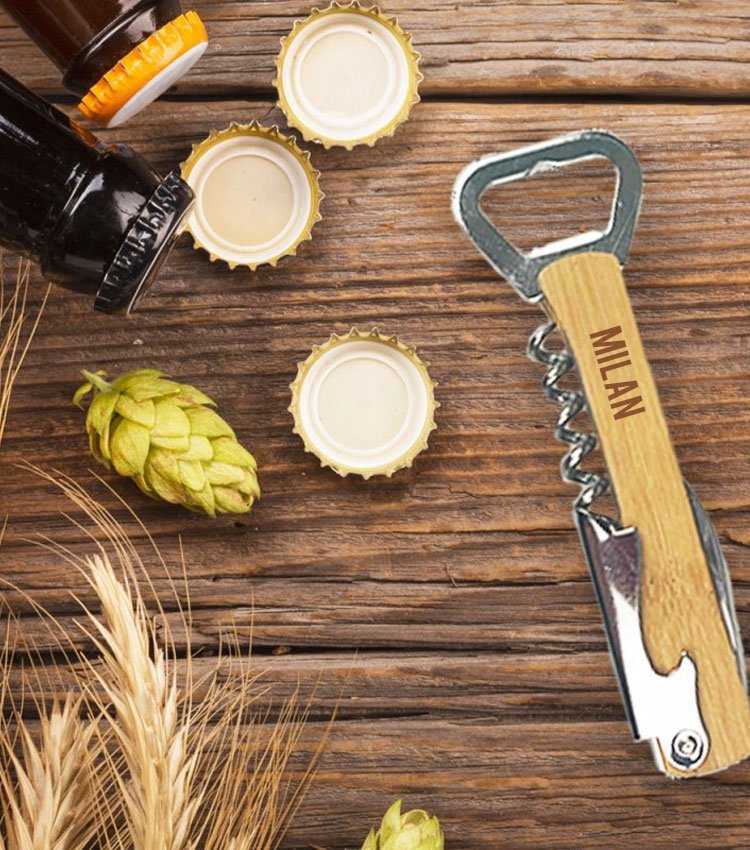 Looking for an original gift for Father's Day or, for example, for the birthday of your grandfather, your brother or someone else in your area who is a soft drink, wine or beer lover? Then this waiter's knife is the perfect solution. It is a super practical and unique gift. You can engrave the name of the recipient or yourself on it!
WAITER'S KNIFE
This waiter's knife is very handy because of the four functions it has. It has a corkscrew, 2 bottle openers and a lead cutter. When the weather is nice, it is a musthave item in the picnic basket. Then you know for sure that you can easily open your refreshing drink or favorite bottle of wine when you go for a picnic in the park. But it can also come in handy in your own kitchen or on the boat.
Engraved waiter's knife
This product is extra special because a name is engraved in the bamboo handle. This way you make the gift personal and it is really made especially for the recipient. You can also choose to engrave the text '' Grandpa James '' instead of just a name. Make it as personal as you like!
You can even make it a real gift by choosing to have the gift wrapped. As finishing touch, you can also add a free card to your order. You can write a text for this and we will place it on the card. In this way it is also clear to the recipient from whom he / she received the present.
**Product features **
Material: metal and bamboo
Size: 13,6 x 3 x 1,5 cm.
Weight: 78 grams.
Is engraved.
4 functions: corkscrew, 2 bottle openers and lead cutter.