MEPAL LUNCHBOX TO GO WITH NAME
For on the road, at work or to school it is convenient and environmentally friendly to take your lunch or breakfast with you in a lunch box. This TO GO lunchbox by the Mepal brand is the perfect box for a big or small eater. The great thing about this lunchbox is that it can be printed with a name, print or text. Your best lunch in the cutest lunchbox!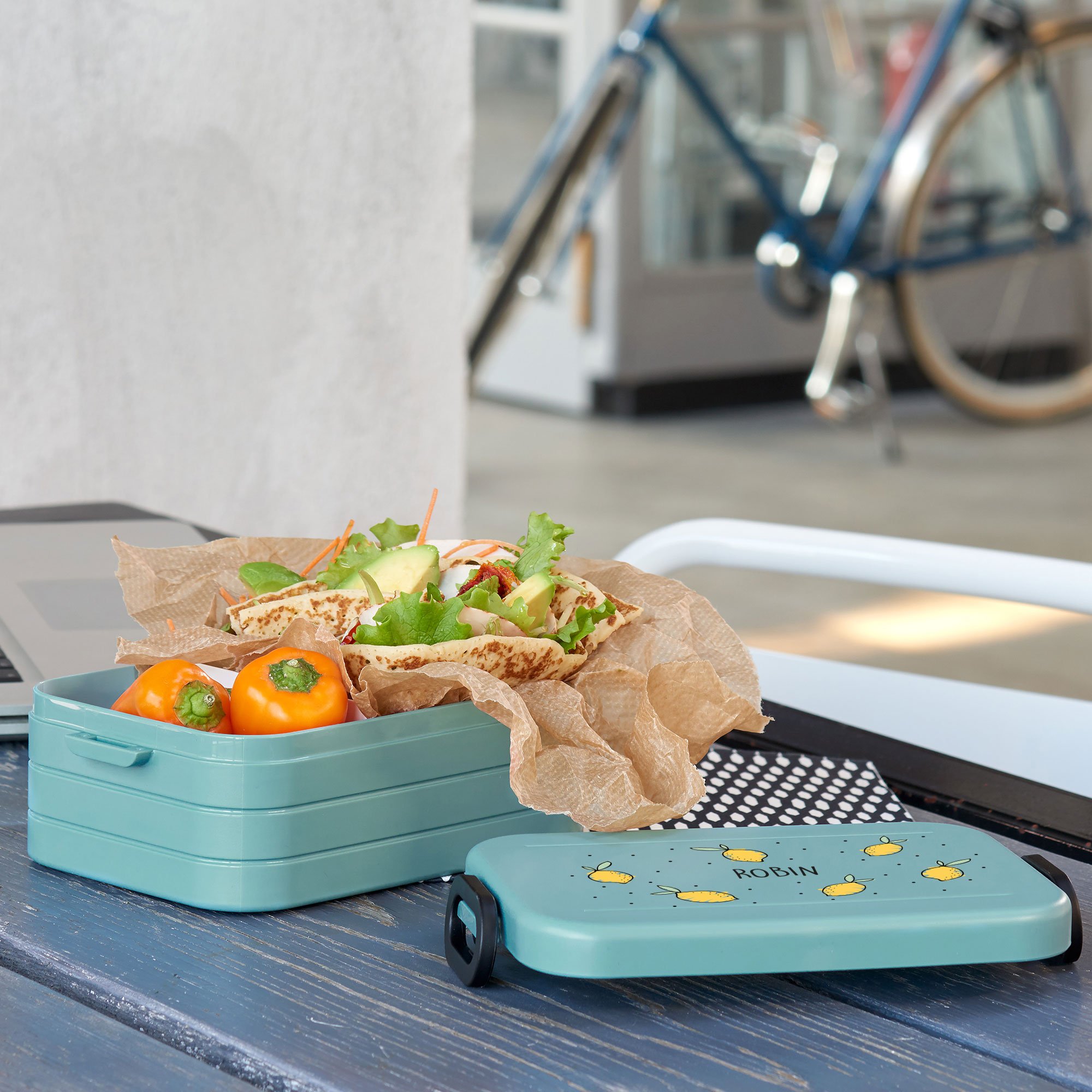 Mepal lunch box TO GO in the size medium and large! In this lunch box you can keep your lunch fresh thanks to the special clips that can be found on the sides of the lunch box. These clips also allow you to close the lunch box properly. In addition, the clips ensure that the lunch box is 100% leak-free. At Bulbby it is possible to personalize this super fine bread bin by having your name or a text printed on it, such as: "It's lunch time!"
PERSONALIZE THE MEPAL LUNCH BOX TO GO
Because the lunch box is personalized, you can be sure that your child owns a very original lunch box during lunch at school. This makes every lunch an even bigger party! You can choose a print with name or a nice quote / text. You can also have the school year or the date of birth of your child printed on it. Everything is possible! An advantage of having a name printed on the lunch box is that your little one will no longer confuse his or her lunch box with that of a classmate!
MEPAL LUNCH BOX FOR WORK
The Mepal lunch box TO GO is not only great for children, it is also an ideal lunch box for work due to its sleek and minimalistic appearance. The size of the medium lunch box is (lxwxh): 12 x 18.5 x 6.5 cm and the large lunch box is (lxwxh): 25,5 x 17 x 6,3 cm. So sandwiches and an extra snack fit in well. The lunch box itself is available in different colors. The designs which you can choose from have also been designed for different ages. Choose your favorite and make your lunch box completely unique.
Go to our design tool to get started with the design of your own Mepal lunch box TO GO. Two days after you have completed your order, we will send the package to you.
Product  features
From the brand Mepal
Leakproof due to handy clips on the sides
BPA-free
Medium (LxWxH): 12 x 18,5 x 6,5 cm
Large (LxWxH): 25,5 x 17 x 6,3 cm
Available in two sizes