HAMAM TOWEL WITH NAME
This hamam towel is perfect to take with you when you go boating, go on a picnic or of course when you go on holiday. The reason why this hamam towel is so cool is because it is handwoven in an authentic way and because this hamamcloth will be printed with your name. This way you always design a unique item!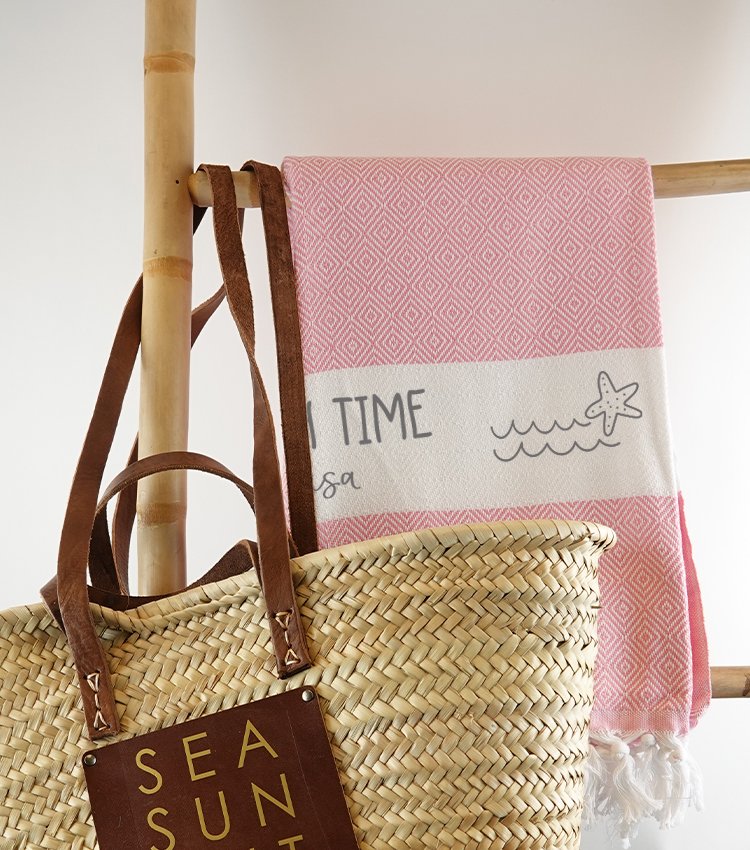 You can personalize this hammam towel of 100 x 170 cm by having your own name printed on it. Do you prefer to have a nice text or quote on it? That is of course also possible! Design the hammam towel exactly the way you want it to be.
TO THE BEACH
The first thing you think about with a hammam towel is of course going to the beach or the swimming pool. The towel is certainly suitable for that. The hammam towel dries quickly due to the airy fabric and is also easy to fold and carry with you in your beach bag or suitcase because it is not as thick as a normal beach towel and is therefore a lot lighter.
Besides that the towel is handy to take with you to the beach, you can of course also use it when you go for a picnic in the park or when you are going yo enjoy the sauna. A truly multifunctional product. The possibilities with this cloth are endless!
The hammam towel can be combined with our picnic basket!
THE DESIGN
The hammam towel is available in a nice stripe pattern and in different colors. The design process is very easy. First, you can enter the texts in the appropriate text boxes, choose the colors of the print and your favorite color of the product. Now all you have to do is complete your order and then you can relax on your own personalized hammam towel within a few days. Tip: wash the hammam towel in advance so that it absorbs moisture better during use.
Product features
100 x 170 cm
Made of 100% cotton
Made from hydrophilic cotton
Wash at 40 ° C before you use it
Luxury variant of the hammam towel
Also nice with boat name printed on it
Ask for volume discount for 8 or more: info@bulbby.com