COTTON STORAGE BAG WITH NAME
Tidying up has never been more fun with this storage bag printed with one of our fun prints and name! The basket is perfect as a toy basket, laundry basket or as a decoration basket in the nursery or baby room.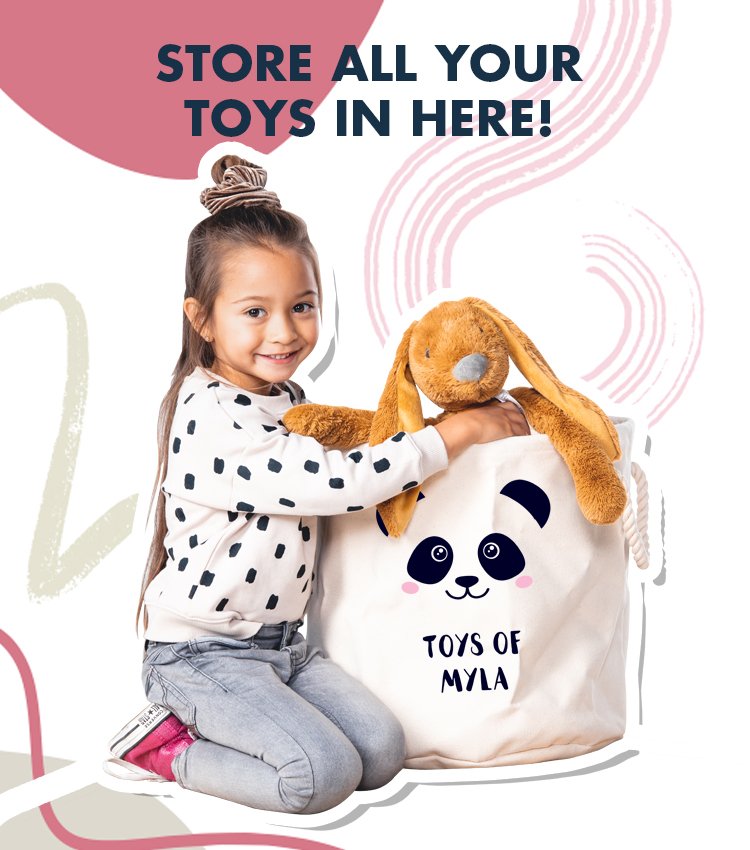 Handy storage bag with your own text name and/or print. Available in two sizes. This middle sized storage bag is great for the loose stuff laying around. The storage bag is also ideal to use as laundry bag for example the baby or kids room. Are you looking for an original maternity gift? Then this storage bag with name is certainly a success! A very nice gift with name.
ORDER A TOY STORAGE BAG WITH NAME
In this nice big storage bag with name, you can not only leave stuffed animals, but all the toys that your little one likes to swing through the whole house. The medium size is 40x40 cm and the large size is 40 x 60 cm. The storage bag with name is nice as decoration, and is also very practical.
BUY STORAGE BAG WITH NAME
The canvas storage bag can be printed with various trendy designs. There is something fun for everyone! Have you seen our panda bear? Choose your favourite name logo above and decide in which colours you would like the printed bag to be printed.
Product features
Size medium: 40 x 40 cm
Size large: 40 x 60 cm
Abrasion resistant canvas construction
Very sturdy hinges
Canvas
Name or text too long? No problem, we will adjust it manually!